My love of Cooking Started with My Aunt Jen and I dedicate this page to her.
Jeannie Ursula Dupee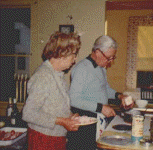 Aunt Jen and my Pop in Maine
A Word about " My Cookbook"
After my children were grown and moved into their own apartments, the telephone started ringing. How Do I ? What do I do? What this and that? The simple answer seemed to be,
PUT IT ALL DOWN IN THE COMPUTER AND PRESS PRINT!
These recipes were written for the kids and occasionally I have left notes in them for a particular child.
A Simple Primer on Herbs - What are herbs and spices and when do you use them? A question that I was asked many times.

Information on Ingredients or Before You Shop- Most People know how to shop for clothes however when it comes to food shopping, its a whole different story. This has seemed to help.
Traditions- A few words on our traditions
Entertaining - different parties for many occasions.
Shopping - Don't be fooled


Home Page