CLARA ROGERS PURDON 1858-1907/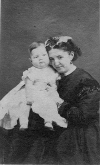 From the letter of Cousin Frank Rogers
"Aunt Clara Purdon had a lovely personality in all "ways., very slender and of medium height in reality. She carried herself so beautifully that her appearance was always Impressive. As a girl she had been trained to hold herself errect, and to the end of her life she never leaned against anything or curved her back.. She walked with a smooth grace that I have never seen surpassed by any other woman, even professional dancers So far as, I know she was never active physically; probably most of her store of vitality had been exhausted by her frequent pregencies. Her one excursion to the outside world was a pleasure trip to Europe in the summer of 1896.
She had considerable facial beauty which was: marred by the flatness of her nose: possibly her nose had been injured in childhood. Her brow was noticeably beautiful, usually low. surmounted by thick, growing., wavy graying hair. parted in the middle. Her voice in keeping with her whole personality was always mellow and gentle in tone. She had I believe no interests outside her home----I in any case she was a wonderfully lovable selfless lady who spent a reasonably long life in doing her best to contribute to the happiness of her domestic circle. She died at the age of seventy."
In his diary grandpa Purdon comments frequently about her headaches and toothaches. John, Graeme Purdon was born in Philadelphia on July 31 1854. His father John died a few months after he was born. The family moved several times in Phildelphia and to Chester County when they traveled by stagecoach to reach their destination. Most of his life is carefully detailed in his diary.
FROM THE LETTER BY COUSIN FRANK
John Graeme Purdon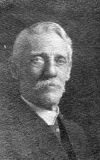 " I knew Uncle John in his last years only. He was of medium height., extreamily nervous.. restless temperament. He had been an excellent dancer in his youth and generally active. but in his early life in China., he had broken his leg which had been so badly set by an incompetent surgeon that he remained painfully lame for the rest of his life.
For many years his business prospered, but about the turn of the century changing conditions in the East became increasing adverse to his interests and he decided to pull up stakes and go home to stay. bo he transferred what remained of his fortune and bought a house at 356 Malboro St. and settled down for the first real home he had had in many gears. The domestic tranquillity of his new life was welcome to his affectionate nature. but dags often must have seemed very very long to him. !In Shanghai, he had become a man of importance in a large Anglo-American community; he was active in the business, civil and social world, !In Boston where he had never lived he had no civil or business affairs to occupy him and few acquaintences outside the family group. But he accepted the situation without complaint and was always a cheerful companion.
John Graeme Purdon was a gallant gentleman of high ideals, a loyal Episcopalian, a devoted and unselfish husband and father, a most responsive and agreeable companion." was born on 31 Jul 1834 at Philadelphia, Pa. He married Clara Pomeroy Rogers (see #3), daughter of John Rogers and Sarah Ellen Derby, on 13 Nov 1863 at Roxbury, Mass; They sailed for China the day after they were married. He died in 1910 at Boston, Mass.
Our Family Branches Grandmothers Attic