Friday July 15
We traveled on and suddenly the mountains slouched into the horizon and we reached the rolling hills of Italy. We arrived in Venice and went out to dinner. I sat with Drea, Sharon, Saj, Vanessa and Chrissy. 5 Australians and 3 Americans made for an interesting table. We began with meat lasagna, which was, as Bushy says, GEORGEOUS. We then got a salad, which is what Americans call a head of lettuce. At this dinner is where I had my blonde moment of the trip. Vanessa asked me if I had seen any famous people and I said, yea. I see some people just "chillin in the VIP", my nickname, so anyway she was like, " yea, in Australia I have seen Paul Hogan" so all of us from the states looked at each other and Sharon asked who that was, so I go "the wrestler", ha ha. That's HULK HOGAN. Paul Hogan is Crocodile Dundee, so that was my moment. So on to dinner. We had chicken, potatoes, and a few carrots. GEORGEOUS. Dessert was a */* flan but I ate it. It was OK. So here's where it hit me, ok my God, I'm in Italy.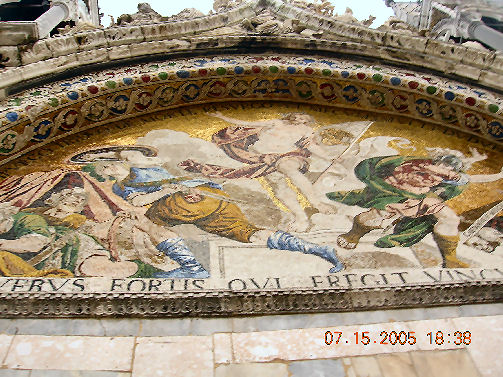 We got into a boat and took off into Venice by night. We embarked upon the canal and the sky was a light blue turning to black slowly. As the cruise went on the lights outside and inside the buildings began to turn on and light up the sky. S we turned the corner, the Rialto Bridge peaked its head out and revealed its beauty. I was stunned and speechless. How beautiful and romantic could a bridge be? The night ended in the main square where we sipped Persecco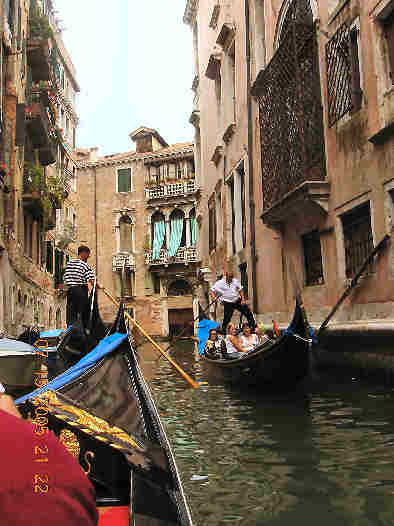 and ate gelato. What a great night.
Saturday, July 16 Venice sightseeing & at leisure.
CHAARGE IT!!!
We embarked to Venice this morning to shop till we drop. We went to a glass blowing demo where the man made a horsey! They need to do it so quickly and it's so precise. We shopped around for a while. I got a lot of jewelry and glass.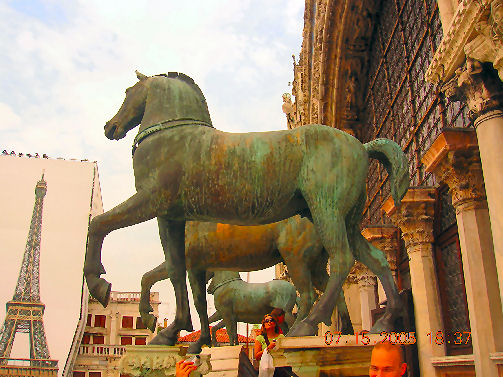 We took a break and went to St Peter's Basilica, which was beautiful. We climbed up to the top and took pictures of the beautiful landscape/seascape. Later we went on a gondola serenade with a few people, which was nice. I don't understand how they live like this! Then we got on a boat to the fisherman's island of Burano. We started out with a fish pate and toast, which was amazing. Then seafood lasagna, which I have no clue what it was made of, and I don't want to know because I loved it. Also during this meal we had unlimited wine and my table got upgraded to a big carafe. Next we had a seafood risotto, which was good. I saw a mini tentacle, which was the end of that! Then we had salad and baked cod. (I know so much food) and fried shrimp and squid. By this time my table was trashed. Bushy wanted to kill us, ha ha. The food was so good and not because we were drunk. We took a boat back to the mainland and all went out to a club. It was awesome!