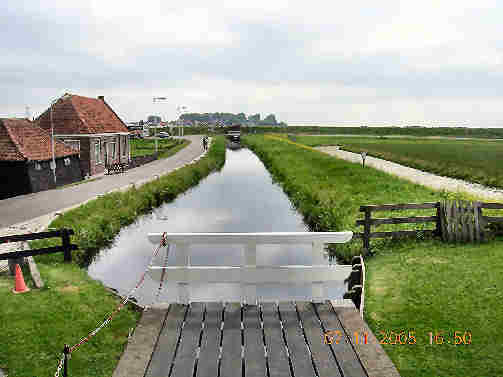 Monday, July 11, 2005 London - Amsterdam
I took a little nap through Belgium, which is a lot of farms, goats, cows and traffic! There are little canals and streams everywhere. The boat ride from England to France was pretty cool. I donít know whether we are going to get stamped at customs, anywhere else, because we are officially in Europe. I canít believe they have rush hour traffic in Europe, weird. The gas stations here have restaurants. People here love bikes; they ride on their own little highway paths. The French canít call it an egg salad sandwich. Itís ď egg, mayonnaise and cressĒ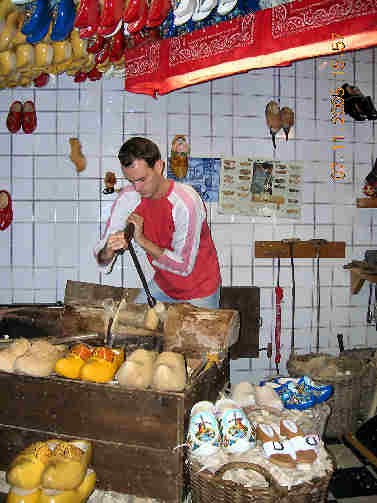 . We just passed Waaslandhaven-noir; I donít even know what country we are in. (Belgium- Holland border) We are now in some ghetto tunnel that happens to break the traffic. BKB
Tuesday, July 12 Amsterdam orientation & at leisure
Yesterday we visited a cheese den where it smelt horrible, there a clog-making demo. I got to try them on and sit in a big one. We went to Vollderdam and had mini pancakes, so good.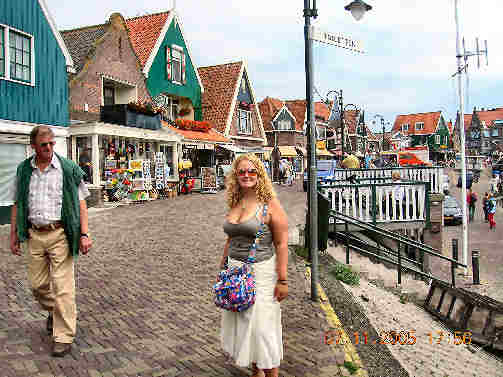 There were tiny tiny houses. I donít understand how they can live like they do.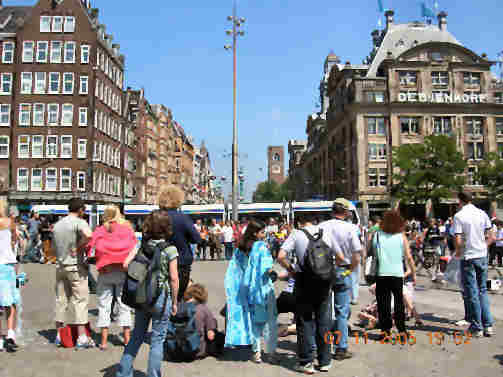 The city of Amsterdam was breath taking. The canals, buildings and the hustle and bustle was amazing.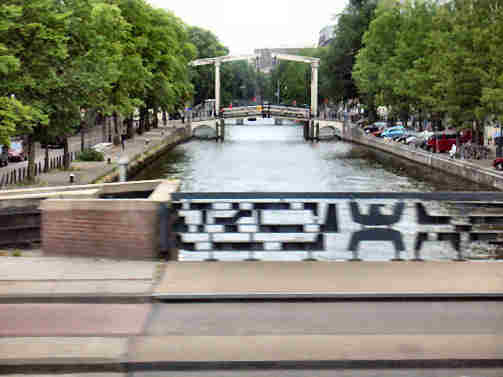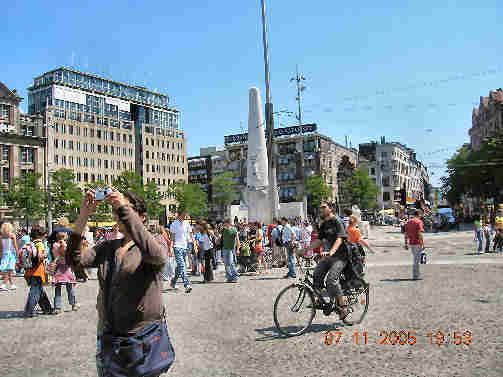 We arrived at night the first day and went on a canal cruise and ate on a floating Indonesian restaurant. Other than all the demos yesterday, (clogs etc). I went into the Anne Frank House and climbed the stairs into the secret annex. They had the diaries, pics she pasted on the wall. Actual pieces of the original wall of their height measurements. It was indescribable, and then went to a cafť where we ate lunch on a canal. I ate a plain salad but it was still good. We went shopping and such and went to a coffee shop. We then went to a traditional Dutch dinner. We had a welcome toast of dry gin (a shot). I had pea soup with sausage with sausage (didnít eat the sausage). Hotchporcita,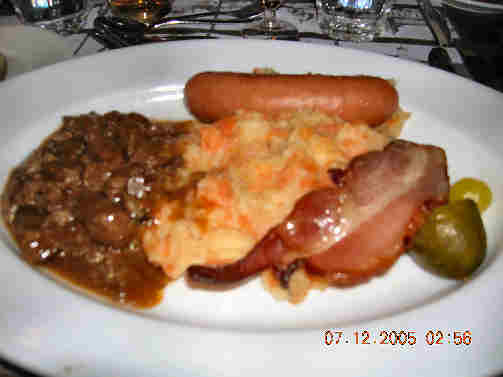 this **/ they ate during their famine and we ate it. Mashed potatoes and mashed carrots, mashed together. This beef stew **/ which tasted like meat soaked in gin or whiskey and looked like **/. Served with a sausage, chunk of bacon, pickle chunk and 2 pearl onions. Dessert was a thin pancake with ice cream and orange liqueur. What a meal.