Tristam Coffin -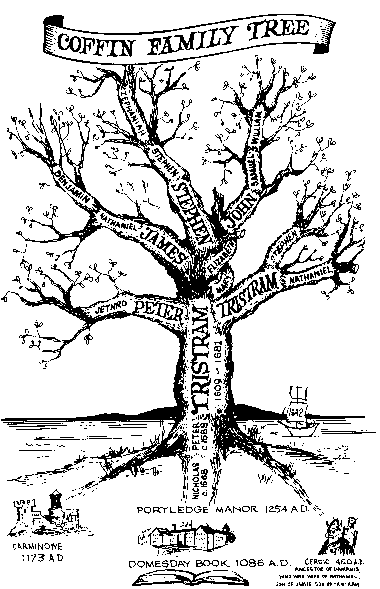 Tristram was the eldest son of Peter Coffin and his wife Joan Kember, and was born at Brixton, a parish near Plymouth in Devon; he was baptised on 11 March 1610. He became a churchwarden of the parish church (where his customary pew in the front of the chancel was marked on a plan made in 1638) and also a parish constable - holder of one of the offices created under the Elizabethan reforms of parochial administration. In 1630 or thereabouts he married Dionis, daughter of Robert Stevens of the same parish.
Tristram may have inherited some property from his father, as he was the executor both of Peter and of his uncle John, whose will was proved in 1628. Records of Devon Quarter Sessions show that he had a legal dispute with a Thomas Maynard, also of Brixton, which in midsummer 1641 was referred for arbitration to Robert Savery and Henry Pollexfen. The subject of the dispute and the outcome of the arbitration are not known. But they may have had a bearing on Tristram's decision in 1642, shortly after the outbreak of the Civil War in England, to embark for America - taking with him his wife and 5 small children, his mother and two unmarried sisters. None of them ever returned. It is thought that they sailed in one of four ships owned by Robert Clement (the Hector, Griffin, Job Clement and Margaret Clement).
Tristram is said to have gone first to Salisbury, in what is now Massachusetts, but to have moved soon afterwards to the new settlement of Pentucket (later renamed Haverhill). Later still he moved to Newbury, and then back to Salisbury (1654-5), from where he set out first to Martha's Vineyard and then to Nantucket, intending (it is said) to report on the disposition of the Indians and the possibility of emigrating thither. His report was satisfactory on all counts.
On his return to Salisbury in 1659, a company was organised for the purchase of Nantucket, and the first settlers arrived later that year - Thomas Macy and his family, Edward Starbuck, Isaac Coleman and James Coffin (Tristram's fourth child, and only 19 years of age at the time).Tristram himself seems to have moved to the island in 1660, and to have been given some priority in choosing his house lot at a meeting in July 1661, when it was agreed among the first purchasers that each should be free to choose a lot of 60 rods square. According to Louis Coffin, author of The Coffin Family, his first home was near the Capaum pond, where he lived until his death.
Of the other members of Tristram's family, his mother Joan died in Boston in May 1661, and never went to Nantucket. His eldest son Peter was among the original purchasers, and like his father was allotted land near Capaum; but if he lived there, it seems to have been only for a short time. Two of Tristram's other children, Tristram Jr. and Elizabeth, were (like Peter) married by this time; but although among the original purchasers, Tristram Jr. and Elizabeth and her husband (Stephen Greenleaf), are not thought to have ever lived on Nantucket. However, James Coffin, the third son, was allotted land bounded on the west by the common, and on the south by the lot of Nathaniel Starbuck. Tristram Sr. and his three eldest sons also bought the neighbouring island of Tuckernuck in their own right.
According to the early accounts, Tristram Coffin Sr. was the leading man on the island, and notably so in his dealings with the American Indians who were its aboriginal inhabitants.He is said to have treated them considerately in all ways, and to have employed numbers of them in farming the land he acquired. However, some white settlers foolishly sold rum to the Indians, who soon became drunk and troublesome as a result. As the first chief magistrate of the island, appointed in 1671, Tristram (with his opposite number from Martha's Vineyard, Thomas Mayhew) had to promulgate a law prohibiting the sale to Indians of intoxicating drink - perhaps the first liquor law on record.
On the marriage of his daughter Mary to Nathaniel Starbuck in 1664, Tristram endowed the couple with one-half of his land. Much of the rest he seems to have left to go to his youngest sons, John (the second of that name - the first, born in England, having died at Haverhill) and Stephen, after the decease of himself and his wife. He also gave 10 acres of land each on Tuckernuck to such of his grandchildren as would cultivate it. He left no will, but died on 3 October 1681. His wife Dionis may have survived him - according to one account she died on 16 Oct 1676, according to another on 6 November 1684. James, John and Stephen Coffin adminstered his estate jointly, and were discharged from their duty by 9 February 1682.
Brixton England, Salsbury, Newbury, Nantucket Mass Jan 4 1628, Will of his Uncle John ( proved Apr. 3 1628 ) He makes Tristam an executor and gives legacies to Tristams sisters.
1642 - He and his wife, five children, two sisters and his mother, sailed from England this year and at first made settlement at Salisbury Mass. His brother John had before this died at Plymouth Fort England.
Nov. 15 1642 - He, with others, received a deed from Passaquo and Saggahew, of their lands at Petucket ( Haverhill ) several miles square for the sum 3 pounds 10 s. The Indians made their mark by representations of bows and arrows,
1644 - He " is allowed to keep an Ordinary, sell wine and keep a ferry on the Newbury side", ect ( Merrimack River )
Dec 26 1647 - same order passed. He had the Newbury side and George Carr the Salisbury side.
Sept 1653 - His wife, Dionis was presented for selling beer at his ordinary for 3 pence a quart. She proved upon testimony that she put 6 bushels of malt into the hogshead, and she was accordingly discharged. The law provided that inkeepers should, " alw
ays be provided with good wholesome beer of 4 bushels of malt to the hogshead" to be sold not above 2 pence per quart, under penalty of 40 shillings for the first offense and loss of license for the next. As Dionis kept the proportion good she was not liable for the fine. Haverhill, Newbury, and Salisbury were successively habitations of Tristam until he went to Nantucket. July 2 1659 - He and eight others received the deed to Nantucket from
Thomas Mayhew for 30 pounds, " and also 2 beaver hatts, one for myself, and one for my wife." as Mayhew declares in his deed. The latter retained a share in the island.
Oct 10 1659 - He and sons Peter, Tristam Jr and James bought Tiuckemut Island for 6 pounds from Thomas Mayhew.
July 15 1661 - He had his house lot laid out un a meeting of proprietors of 60 rods square, at Cappamet Harbor.
June 29 1671 - Appointed Chief Magistrate of Nantucket by Gov Lovelace of New York. The same date, he and others received a deed from Wanackmamack head Sachem of Nantucket of lands and privileges for 40 pounds.
Sept 9 1677 - Appointed Chief Magistrate of Nantucket by Edmund Andros Governor Andros. The same year he conveyed to son Stephen, a house and a large amount of real estate; his son on his part to " be helpful to me and his mother in our old age and sickn
ess what he can " To his daughter Mary and her husband Nathaniel Starbuck, he had deeded half of his estate some years previously; but acknowledged this year. . The following year he gave his son John a new dwelling house, and to each grandchild 10 acres
to plant upon the island of Tuckernuck.
Nov 29 1681 - Administrration granted on his estate to sons John, James, Stephen; they giving a bond of 100 pounds.
Aug 8 1682 - Inventory presented, the Court ordered use of the estate to his widow, for her life.
This family was Tristram and Dionis Coffyn from Devon, England. The civil war in England at the time forced Tristram to come to America in 1642. He was a royalist. A planter, Tristram and his family arrived in Newburyport in late summer 1642 having sailed on the "Hector" owned by Robert Clement out of Plymouth. They lived briefly at Haverhill, and moved back to Newbury where he operated a ferry across the Merrimack River. Later he moved across the river to Sailsbury N.H., where he and some friends, purchased Nantucket Island, for thirty pounds and two beaver skin hats and moved there in 1660. He was Governor at one point. He was a blacksmith in Haverhill with his son John for a while until his death. He always spelled his name Coffyn married Dionis Stevens, daughter of Robert Stevens, at England. He was born in 1609 at Plymouth, Devonshire, England. He died in 1681 at Nantucket.
It is believed by some that the Coffin (or Coffyn) family originated in Palestine or Greece. At the time of the Norman Conquest, when the name first appears in British history, the family showed signs of Norse or ancient British characteristics. The Coffin family from which the Gaspe Coffins descended lived in the northern coast of Devonshire, England, within the parish of Brixton. Tristram Coffin left his homeland in 1642 with his wife, his mother, and two unmarried sisters, and moved to America. Finally in 1660 he settled permanently on Nantucket Island, of which he was one of the original proprietors.
It is from Tristram and his wife, Dionis Stevens, that most of America's vast number of Coffins have descended. A great-great-grandson of his, Abraham, served as an officer on a British Navy Vessel during the American Revolution. This ship made frequent excursions into the St. Lawrence and often came to port in Gaspe. On one of these visits, in 1779, Abraham married Hannah Ascah. He received 600 acres of land in L'Anse aux Cousins, on which several members of the Coffin family still reside.
Abraham built his house near the Mill Brook in L'Anse aux Cousins. Here he raised a family of 8 children. His fifth child, also called Abraham, married Annabella Boyle and moved to Wakeham. Their fourth child, again Abraham, settled in York. This Abraham's son, Edward McGregor, settled on lot #19 in Sunny Bank, on what is now vacant property owned by Ralph Patterson. Only two families of Coffins were raised in Sunny Bank, and today not even a trace of their homestead remains.